Autoelectro Remanufactures Its One Millionth Starter Motor and Alternator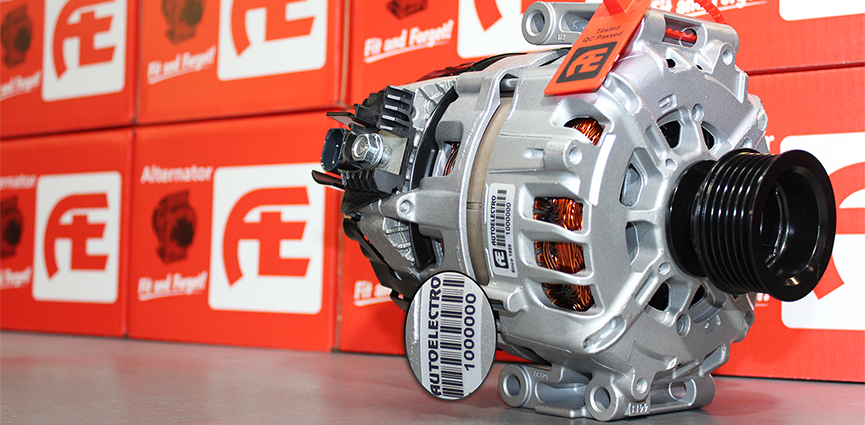 Milestone achieved as it celebrates its 35-year anniversary.
Rotating electrics specialist, Autoelectro is celebrating the remanufacture of its One Millionth Starter Motor and Alternator and 35-year anniversary.
Steeped in family history, leaping from generation to generation, Autoelectro continues to champion remanufacturing from its Bradford operation.
It is home to both a dedicated team of experts and modern test and production facilities, a blend that allows the company to embrace change and strengthen a reputation that is renowned for quality, range coverage, stock availability and technical support – its core principles.
From large-scale production runs to a bespoke stater motor request from the other side of the world, Autoelectro is unique in being able to facilitate any request.
Autoelectro UK Sales Manager, Nick Hood, explained: "No matter how old, new or rare the vehicle is, Autoelectro has most likely seen it before and has the knowledge and experience to provide a premium replacement.
"Quality has been the dominator throughout Autoelectro's history, having previously remanufactured to original equipment (OE) standards for the original Lucas B90 rotating electrics programme and administering the European warranty programme for Delco Remy.
"In addition, Autoelectro was formally recognised with ISO:9001 accreditation for quality in 1994 – which is still in place today."
By Autoelectro's own admission, Rotating Electric technology was rather simple 35 years ago; however, that notion couldn't be further from the truth in 2021.
With only a handful of references required to facilitate the vehicle parc back in 1986, components are now largely vehicle-specific, resulting in many different part numbers to cover a small number of applications.
Autoelectro, for example, boasts more than 4,500 part numbers, while advances in technology have boosted mainstream Alternators from 45 amps output to between 200 and 250 – depending on the vehicle.
Nick added: "Autoelectro has been able to gain longevity, mostly achieved with a continuous and ambitious embracing of technology. The company has also kept pace with part numbers, complex technology and the depths of stock required to supply today's market.
"Naturally, we've had to make significant investments over the years, such as OE testing equipment, but those commitments prove to our customers that all Autoelectro products will perform to the levels of those originally fitted to the vehicle when in production."
Such has been the success throughout the last three-and-a-half decades, Autoelectro is proud to reveal that the One Millionth Alternator rolled off its production line in January this year, with its One Millionth Starter Motor to follow shortly.
Nick explained how, despite the harsh trading environment that has been created by the COVID-19 pandemic and the UK leaving the European Union, British-based Autoelectro continues to flourish:
"By adopting our core principles, we find ourselves in a unique position in that we're not having to import our supplies; therefore, we have complete availability and ready to facilitate any order immediately.
"We boast excellent technical support and cataloguing on our website, which is a highly-effective and interactive tool to help customers manage all aspects of their commercial relationship with Autoelectro."
Ultimately, Autoelectro offers a one-stop shop for customers' rotating electric needs. As for the next 35 years, given the parallels between an electric motor and both a Starter Motor and Alternator, the company is well-placed to accommodate whatever the future market has in-store.
"The business will remain highly successful long into the future and the Two Millionth Starter Motor and Alternators will surely follow," Nick confidently concluded.