Autoelectro Reveals Importance Of In-The-Box Instructions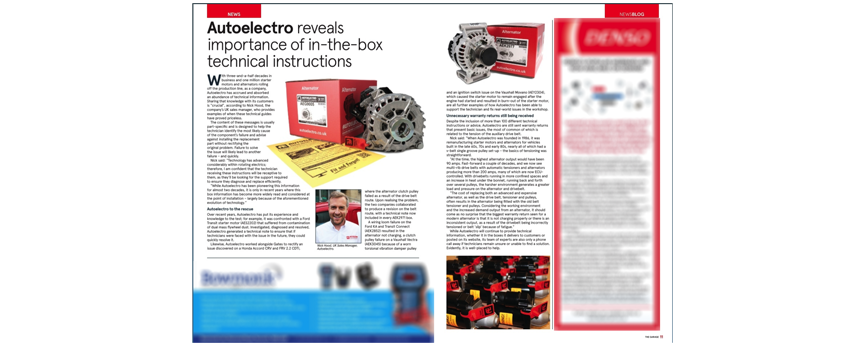 With three-and-a-half decades in business and one million Starter Motors and Alternators rolling off the production line, as a company, Autoelectro has accrued and absorbed an abundance of technical information.
Sharing that knowledge with its customers is "crucial", according to Nick Hood, the company's UK Sales Manager, who provides examples of when these technical guides have proved priceless.
The content of these messages is usually part-specific and is designed to help the technician identify the most likely cause of the component's failure and advise against installing the replacement part without rectifying the original problem. Failure to solve the issue will likely lead to another failure – and quickly.
Nick said: "Technology has advanced considerably within Rotating Electrics; therefore, I am confident that the technician receiving these instructions will be receptive to them, as they'll be looking for the support required to ensure they diagnose and replace efficiently.
"While Autoelectro has been pioneering this information for almost two decades, it is only in recent years where this box information has become more widely read and considered at the point of installation – largely because of the aforementioned evolution of technology."
Autoelectro To The Rescue
Over recent years, Autoelectro has put its experience and knowledge to the test; for example, it was confronted with a Ford Transit Starter Motor (AES2202) that suffered from contamination of dual mass flywheel dust. Investigated, diagnosed and resolved, Autoelectro generated a technical note to ensure that if technicians were faced with the issue in the future, they could quickly resolve it.
Likewise, Autoelectro worked alongside Gates to rectify an issue discovered on a Honda Accord CRV and FRV 2.2 CDTi, where the Alternator clutch pulley failed as a result of the drive belt route. Upon realising the problem, the two companies collaborated to produce a revision on the belt route, with a technical note now included in every AEK2971 box.
A wiring loom failure on the Ford KA and Transit Connect (AEK2852) resulted in the Alternator not charging, a clutch pulley failure on a Vauxhall Vectra (AEK3045) because of a worn torsional vibration damper pulley and an ignition switch issue on the Vauxhall Movano (AEY2304), which caused the Starter Motor to remain engaged after the engine had started and resulted in burn-out of the Starter Motor, are all further examples of how Autoelectro has been able to support the technician and fix real-world issues in the workshop.
Unnecessary Warranty Returns Still Being Received
Despite the inclusion of more than 100 different technical instructions or advice, Autoelectro are still sent warranty returns that present basic issues, the most of common of which is related to the tension of the auxiliary drive belt.
Nick said: "When Autoelectro was founded in 1986, it was remanufacturing Starter Motors and Alternators for vehicles built in the late 60s, 70s and early 80s, nearly all of which had a v-belt single groove pulley set-up – the basics of tensioning was straightforward.
"At the time, the highest Slternator output would have been 90 amps. Fast-forward a couple of decades, and we now see multi-rib drive belts with automatic tensioners and Alternators producing more than 200 amps, many of which are now ECU-controlled.
"With drivebelts running in more confined spaces and an increase in heat under the bonnet, running back and forth over several pulleys, the harsher environment generates a greater load and pressure on the Alternator and drivebelt.
"The cost of replacing both an advanced and expensive Alternator, as well as the drive belt, tensioner and pulleys, often results in the Alternator being fitted with the old belt tensioner and pulleys.
"Considering the working environment and the increased demand output from an Alternator, it should come as no surprise that the biggest warranty return seen for a modern alternator is that it is not charging properly or there is an inconsistent output, as a result of the drivebelt being incorrectly tensioned or belt 'slip' because of fatigue."
While Autoelectro will continue to provide technical information, whether it in the boxes it delivers to customers or posted on its website, its team of experts are also only a phone call away if technicians remain unsure or unable to find a solution.
The original article can be found on pages 10 & 11 of the July 2021 edition of The Garage and MOT Magazine and here: July 2021 The Garage and MOT Magazine