Autoelectro: "We're Invested In The Classic Car Market"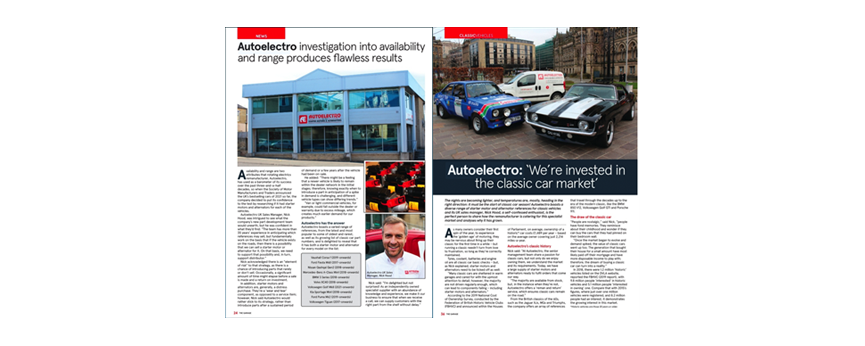 The nights are becoming lighter, and temperatures are, mostly, heading in the right direction: it must be the start of classic car season! Autoelectro boasts a diverse range of Starter Motor and Alternator references for classic vehicles and its UK Sales Manager, Nick hood, a self-confessed enthusiast, is the perfect person to share how the remanufacturer is catering for this specialist market and analyses why it has grown. 
As many owners consider their first spin of the year, to experience the 'golden age' of motoring, they may be nervous about firing up their classic for the first time in a while - but running a classic needn't turn from love to frustration, so long as they're correctly maintained. 
Tyres, coolant, batteries and engine oil are all classic car basic checks - but, as Nick explained, Starter Motors and Alternators need to be ticked off as well: "Many classic cars are sheltered in warm garages and cared for with but most attention to detail; however, the majority are not driven regularly enough, which can lead to components failing - including Starter Motors and Alternators." 
According to the 2019 National Cost of Ownership Survey, conducted by the Federation of British Historic Vehicle Clubs (FBHVC) and announced within the Houses of Parliament, on average, ownership of a historic* car costs £1,489 per year based on the average owner covering just 2,214 miles-a-year. 
Autoelectro's Classic History 
Nick said: "At Autoelectro, the senior management team share a passion for classic cars, but not only do we enjoy owning them, we understand the market and its requirements. Today, we have a large supply of Starter Motors and Alternators ready to fulfill orders that come our way. "The majority are available from stock, but, in the instance when they're not, Autoelectro offers a 'reman and return' service, which ensures classic cars remain on the road." 
From the British classics of the 60s, such as the Jaguar XJs, MGS and Triumphs, the company offers an array of references that travel through the decades up to the era of the modern classic, like the BMW 850 V12, Volkswagen Golf GTI and Porsche 911. 
The Draw Of The Classic Car 
"People are nostalgic," said Nick, "people have fond memories. They reminisce about their childhood and wonder if they can buy the cars that they had pinned on their bedroom wall. "Once the market began to evolve and demand spiked, the value of classic cars went up too. The generation that bought their house for a small amount have most likely paid off their mortgage and have more disposable income to play with; therefore, the dream of buying a classic car can turn into reality." 
In 2018, there were 1.2 million 'historic' vehicles list on the DVLA website, reported the FBHVC (2019 report), with a 9.8 million people 'interested in historic vehicles' and 5.1 million people 'interested in owning one'. Compare that with 2015's figures, were just over one million vehicles were registered, and 8.2 million people had an interest, it demonstrates the growing interest in this market. 
*Historic vehicles are those 30 years or older. 
The original article can be found on Page 36 of the May 2021 edition of The Garage Magazine and here: May 2021 The Garage Magazine